Haven't done a Misc. Monday in a while. It felt like the right prompt for today!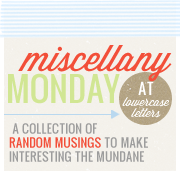 1. I've been noticing that sometimes the red color between Leah's eyebrows is dark, and sometimes it's not.
Gabriel had the same thing
, and I remember the doctor telling me it would go away. Most days I didn't notice it at all on him, and I guess the same is true for Leah. Maybe it's the weather? Maybe it's the lighting? Maybe it's what she's wearing? Not sure.
I see it more in the first picture, not as much in the second picture. But when I first took the second picture, I didn't notice it at all until I went back and looked at it today for this blog post.
I think she's gorgeous no. matter. what.
2. Gabriel and I are sure having fun with it just being me and him and Leah during the day. The first week or so, I think he felt lost with out his big sister. He plays with both Caleb and Sarah, but especially Sarah since Caleb has already been in school for two years.
He loves when I give a horsey-back ride! And...when we go outside, there's always our dog Abby to keep him company. :)
He starts pre-k tomorrow, and I'm very excited for him.
3. As I mentioned in my last post, Sarah turned 6 on Saturday. We had a pretty calm day since we already celebrated with family on the 12th. But she did get a new bike, so she got to ride it around the block several times.
New helmet...new bike...happy girl!
4. Caleb love Legos. I just had to post this pic of him.
5. During a recent Walmart trip, my husband about lost it when he saw a woman with 55 items in a 20 item or less line. Ok, we don't really know how many items she had, but it was a lot! And yes, I had the nerve to take a picture. :)
If you can tell, the cashier has a full bag in her hands, that's not counting the full bags that are already on the bag holder thingy. Then the conveyor belt was full, and she had more still in the cart. This doesn't tend to bother me all that much, but I do understand why it is frustrating to others. I mean, I'm not sure why they have the line if people aren't going to abide by the 20 or less rule?
Yeah...I know...quite the first-world problem. :)
6. Did you know that if you see words in bold green/pink within a post, it means I've linked it to another post?
Happy last week of August.