Can't resist. Once again. Here is 5 Question Friday from Mama M!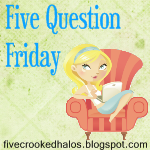 1. If you could, would you go back to high school?
Yes, yes, a million times YES! Oh, the simplicity of life. Who doesn't miss that? And last night I watched a college softball game on ESPN, and I almost felt tears coming on. I miss high school softball far more than college softball, so every now and then I wish I could go back and pitch on the
Dutchgirl field
again. I also miss marching band probably more than anything. I miss my friends and the daily routine of it all. I miss watching Josh and his studly basketball moves (even though I still watch him play from time to time when the coaches get together). I have fond memories of my high school days.
I would go back for fun. But not at the expense of what I have now.
2. If a genie appeared and granted you two wishes, what would they be?
I think everyone has pondered this thought at least a few times in life, knowing that it's not a reality to have wishes granted in this way, but wondering what we really would wish for if given the opportunity. It's actually hard to answer this question, because if you asked me again a month from now or a year from now, it could be a completely different answer! But I'm going to keep this really simple and say I'd wish for enough money to pay off our house and enough to fill up a savings account for my kids to go to college (that's all the same wish...ha!) - my second wish would be a hypnosis session that would cause me to feel physically ill at the thought of McDonald's or any similar fast food restaurant. :o)
Oh. Or world peace.
3. What kids show do you secretly like?
Umm...all of them. So sad isn't it? That's probably why it's so easy for me to be lazy and watch shows with the kids and not work around the house like I should. But I think one of my favorites is
Super Why!
on PBS.
4. What is your beverage of choice?
Coke or Pepsi. I used to be a die hard Pepsi girl, but depending on where I get it, I actually like Coke. Being the drive thru expert that I am, I love Sonic Coke even more than Pepsi. But Taco Bell Pepsi is my favorite. (Learn a little something new about me every day, huh?) :o)
5. What is something that you would change about yourself (or are working to change in yourself)?
Wow, I love the way the end of this question is worded. When I first started reading it, I thought, "Well, that's easy, I want to change my weight!" But then as I continued to read, I thought, "Hmm...working to change in myself...good one." Because for the last several months I have had to work at being forgiving, even when others don't know how much they have hurt me (or they know...and are glad?) - I've had to work at letting go of anger and "grrr" feelings (as my sister calls it). I've learned that my "gift of discernment" does not fail me, it's just that I sometimes dismiss it, which I will never do again.
Thanks, Mama M.