I still find myself feeling
unbloggy
(that word - along with
bloggy
- will surely make it into the dictionary someday and not come up on spell check every time I use it), so I need a writing prompt. Therefore, it is with great joy that I join my friends who currently play along with
Mama M.
over at
My Little Life
during her 5 Question Friday each week.
So here goes.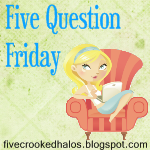 1. Who would you want to play you in a movie of your life?
Probably Sandra Bullock because I've been told several times that I look like her. I also wouldn't mind if Kate Winslet played me because evidently she isn't the "size zero" kind of actress (which I don't understand because she looks tiny to me...but I suppose compared to others in Hollywood, she is more "normal")...and I think she could pass for me, too! ;o)
2. Did you ever go to summer camp?
Oh, my goodness...YES! I went to athletic camps, band camps, and church camps. But the one that was the most important to me was
Super Summer
at William Jewel College every year in June. It was a Christian youth camp, but it was so much deeper than the typical "church camp". I remember being closer to God in those times than probably any other time of my life. That one week in June every year was so important to me. I attended from June of 1993 to June of 2003 (six years as a student and then five years as a small group leader). I miss it.
3. What sends you running and screaming in the other direction?
Bugs, spiders, etc. I'm so not an outdoors kind of girl.
4. What is something you do that drives your spouse nuts?
Um...blog? :o) That's probably not far from the truth. I'm not sure if he likes how much I like my blog.
I promise, honey, that I don't like it more than you!
5. What is currently your favorite song?
That's a tough one. I listen primarily to Contemporary Christian music, and I'm really starting to love Meredith Andrews. And while "Revelation Song" isn't necessarily my favorite right now, her version of it is my favorite. I could listen to her all day long...I even get chills listening to it on YouTube.