I am contemplating starting a series on my blog called Tackle it Tuesday.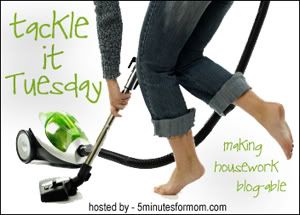 Over the last few weeks, I have grown very frustrated with my inability (or laziness?) to keep up with my house. I'm not talking about dishes or laundry. I'm talking about things like
dysfunctional
closets, cluttered cabinets, unorganized pantry. There are tubs of clothes that belong to my kids: clothes they've outgrown and I need to put them away somewhere. But because I have Gabriel, I can't just get rid of Caleb's old clothes, so they are sort of in limbo!
I hate it when my bedroom becomes my "dump everything" room - like when I cleaned the house for Caleb's birthday party and piled random things in there. I can't stand the playroom because I just can't keep up with what the kids get out - yes, this might be a parenting issue, don't shake your head at me! :)
So anyway, if I start this project, I will take pictures (how embarrassing) of each area I need to tackle and share before and afters. One of my long-term goals is converting the kids' rooms into boy/girl rooms rather than sleep/play rooms.
Would anyone want to take this challenge with me? Does anyone else have rooms/areas to tackle? Or am I the only one with a bit of messiness? :)