Hey, I like all five questions this week for Five Question Friday with
Mama M
! It's a miracle!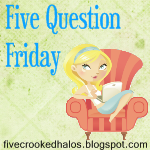 1. Do you know how to play a musical instrument?
Umm
...yes. My dad was a band director. It was in my contract. Ha! I started on trumpet in middle school and then converted to French horn by the end of 8
th
grade. Through high school I received lots of "I" ratings for ensemble groups at the district and state level, also a "I" at the district level each year for solos (but only one "I" at the state level, I think it was my freshman year). I loved (loved, loved) playing in conference band, and I was 2
nd
chair all four years - always a bridesmaid, never a bride, never could step it up and get that 1st chair spot!
I also played for two semesters in college, but then the busyness of schedules kept me from continuing at that level. I did get to play two Christmases at my church "back home" (04, 05 I think) when a group of us would play for the so called greening of the church!
2. What is your pet peeve while driving?
I don't really tend to get road rage. I mean, every now and then I don't understand why someone doesn't use their blinker or uses the wrong lane, but overall I think we've ALL done something stupid while driving.
However, I did become very upset one day when Josh and I were in the van with our kiddos and as we were passing an 18-wheeler, it started creeping over in our lane. Josh had to honk the horn, and then the guy got back to his side. As we passed, I looked up and HE WAS
TEXTING
. I. WAS. SO. ANGRY. I actually wrote down the license plate and the company of the truck. But when I asked my chief-of-police friend if it would even matter if I called it in, he said not really. It's not illegal.
Grr
. It should be.
3. Would you rather have a housekeeper or unlimited spa services?
My first instinct is housekeeper. And then I think spa services. Most of the blogs I've read have said, "Hands down, it's this one," so I'm not sure why I don't feel indecisive! I don't like house work all that much, but I think I could stand it if it meant unlimited spa services. So I'll go with that one. Spa services.
4. Is there a song that you hear that will take you back to the moment, like a junior high or high school dance?
Yes, but there is no way I could pick just one. No way. In fact, when
VH
1 airs the top 100 songs of the 90's, it's like every single song takes me back to a place and time. Sometimes it tugs at my heart. Sometimes it just makes me smile. Often I can remember a place and time when I heard it. For example, if I hear the song
Freshman by Verve Pipe
, I remember that the first time I heard it was between Rosebud and
Owensville
on my way home from tanning. WEIRD. I know. My memory just works like that!
There is one song that brings me to tears, and I hardly ever hear it. It's
How Can I Help You To Say Goodbye by Patty Loveless
. In fact, even looking it up to link to made me cry. It was played a lot during my 8
th
grade year, and that's the year my grandma passed away. Hurts to hear it.
5. What song best represents your life right now?
The first one that comes to mind is
You're Gonna Miss This by Trace Adkins
. Seems to fit my life perfectly. The video I've linked to is great. Even the "one bedroom apartment" shown reminds me of our first apartment as a married couple. And I do miss it.