Spring break is over, back to a normal Monday. Happy April!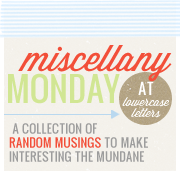 1. I just didn't feel like blogging this morning. I'm not sure why. I think it's because I feel like I have so much to do around here (in full nesting mode) that I didn't want to pause and write. But I told myself at the beginning of the year that I would be consistent, and during the first three months of the year, I have not missed a Monday, Wednesday, Friday post! I like that I'm back to blogging, and I like documenting what's going on or what I'm thinking. Thus, I made myself sit down and do this Misc. Monday.
2. Thursday marked 37 weeks of pregnancy, which means I'm full term. Baby girl can arrive any day now as far as I'm concerned! :) I am 3cm dilated but the doctor said I was "still thick" which means not effaced much (and if you don't know what either of those terms mean, it just means my cervix isn't ready, Google for more info).
3. My mom and I had a "girl day" on Friday, just the two of us. We were going to shop a bunch, but I told her I didn't think I had it in me! So instead, we had a very relaxing day out at my parents' house. It's so peaceful out there, I just love it. And I'm also quite fond of doing nothing, so it fit my personality. We did do one, short trip to Walmart in the morning where I found a few cute outfits for baby girl, and then later in the afternoon I got a pedicure.
The next day we took a trip to Big Lots in Rolla and found the perfect dresser for the girl room.
4. I got out Sarah's baby clothes, washed, folded, and put them away in the new dresser (oh, the dresser, I might add, took Josh about 4 hours to put together...it was so complicated). I didn't realize how many memories would come back to me seeing those clothes, it was so emotional! But Sarah made me laugh often when she would say, "Oh, I remember wearing that!" I'm sure you do, sweet girl. Ha!

Sarah and my mom at her dedication at church.
5. We turned on that AC yesterday. It's only April! We think there is something wrong with it, though. It never really cooled down the place. I guess it's better to find this out now as apposed to the heat of the summer. But I'm not good with the heat these days, so I wish it was cool NOW! Speaking of heat, I guess my kids get that from me...not liking the heat. I mean, it has been in the mid to upper 80's, but they just don't last long outside when it's in the 80's. Sad, I know! We should have gotten out a sprinkler or one of the kiddy pools I guess.
6. Sometimes people ask me if I really need anything since I already have kids, specifically since I've already had a girl. I do have all the main, big stuff and some clothes (though when Sarah was born, that's when I became a stay-at-home mom, so I didn't really get her a lot of clothes because I kept her in sleepers a lot). I'd say that main things moms need when they already have kids would be:
Diapers
Wipes
Desitin
Baby wash
And when it comes to my kids, newborn-sized diapers aren't even necessary! I was telling my mom that the other day, size 1 starts at 8 pounds, and if I keep with my pattern, this baby will be a big one. Caleb was 8lbs, 3oz - Sarah was 8lbs, 14oz - Gabriel was 9lbs, 3oz.
Here's hoping baby girl arrives soon...this week would be fine with me! :)