I'm electing to answer
just one
of the questions on Mama M's Five Question Friday today.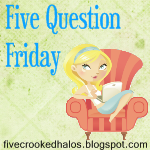 If you had $100 handed to you in cash

without your significant other knowing about it

, what would you spend it on?
First of all, I find the wording of this question either interesting or disturbing. I'm guessing some might think I'm weird for saying so, but it implies that I would hide this $100 from my husband. Even as an adult, I have been given money for my birthday (for example) and I have never hidden the amount from Josh. I have always opened the card, looked at the check or cash and said, "Wow, honey, so-and-so sent me [this amount]! Wonder what I should do?" And then we often use it on a night out together.
When asked "Have you ever lied about how much you paid for a purchase to your spouse?" 66% said "of course" in a Redbook Survey.
If you argue with your spouse about money once a week, your marriage is 30% more likely to end in divorce. -National Marriage Project
I honestly don't understand the concept of keeping money issues a secret from my spouse. As Dave Ramsey calls it, it's
financial infidelity
. I remember once seeing an episode of Oprah (don't throw something at me for watching her) where a woman - who was married to a man making a six digit income - had maxed out tons of credit cards equaling over $100,000 in debt. He just didn't understand why she would do this because he was more than willing to give her basically whatever she wanted.
Yes, there are independence issues with someone like the woman in that case. I find myself feeling the need for a little financial independence as well since I am a stay-at-home mom who does not work outside the home or earn any income on my own. If this is an issue, I believe open communication about these feelings is so crucial. I once heard someone say that her husband paid her on a bi-weekly basis. Some call it their allowance. I realize that some women might think this is old fashioned or
unliberated
, but if our family has decided that the best thing for me to do is stay home and put all of my time and energy into our children and our home, I think the concept of Josh putting aside some money just for me is a wonderful way to show his appreciation for me and to give me a since of financial independence that I would otherwise not have.
We have joint accounts, so anything I spend or anything Josh spends is not going to be hidden. Neither of us have credit cards. We are in this together. No secrets.
So if I were to reword the question, I might say,
"If you were given $100 to spend however you wanted, how would you spend it?"
And the answer would be...I'd either save it and buy myself some new clothes when I reach my goal weight (I'm feeling more determined lately) or I would use it for a night out with my husband!
No secrets.
***