Yes, I am somewhat selective of which Five Question Fridays I participate in. But guess what? I'm participating today.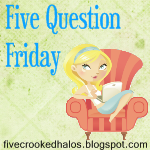 1. Do you have an iPhone and, if so, how do you get apps and what are your favorites?
No, I do not have an iPhone, but my husband has an iPod touch, and he downloads apps every now and then. I'm not sure if movies are considered apps, but Josh has downloaded several of the Pixar shorts, and they are so cute and funny. Plus, the kids love them.
2. What is your fondest memory of K-3rd grade?
When I started kindergarten, my mom was a little over 8 months pregnant with
my sister
. If memory serves me correctly, this was my mom's first year at the school she was teaching - the same school she still teaches at today! It was a Friday morning on September 20, 1985 that I remember my mom deciding to stay home instead of going to work. Since I was only 5-years-old, I didn't realize that her staying home probably meant she felt that the baby was on it's way that day. I rode to school with one of my mom's co-workers, and that afternoon as I stood in line to meet her and go home, I saw her come out of the office and say, "Chrissy! You have a baby sister!" I was so excited.
Who knew it would take about 12 years and my leaving for college for us to actually decide to like each other!
:o)
3. What makes you cringe at the thought of touching.
The first thing that pops into my head is when something falls into the kitchen sink and I have to pull it out...like a knife or a spoon. I think I just have a huge fear that the garbage disposal is going to spontaneously turn on all by itself. I know. So dumb. But I really do think that every time.
4. If you could have any celebrity show up at your doorstep, who would it be and why?
Easy. Jillian or Bob. I'd prefer Bob. But I'd take Jillian, too. And you know why.
5. What would you say is your best physical feature?
I would have to say my eyes. My sister would say my lips - because she says they are like Angelina Jolie's, and I didn't pay to have them done or anything (you're so funny, Sonja). I used to love my legs and am working to get them back to "Barbie" status like they used to be - because I am 5'9 but have the same inseam as my dad who is 6'5 - you could say I'm all legs. You can tell more so when I'm thinner, like in this picture from my senior year in high school.
By the way, this is a great example of an illegal pitch. The back foot is to remain on the ground throughout the entire pitch. Something about flying through the air causes an unfair advantage?
:o)
Happy weekend to you.