It's Spring Break around here, so it's a happy Monday for us! :)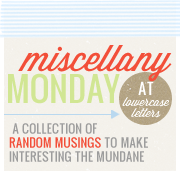 1.
We had such a good
weekend
. Everything went as planned, our hotel room looked exactly like the picture, the dinner was amazing, the movie was awesome, and time spent together was just a lot of fun.
Here I am, a little too happy at The Melting Pot!
When we walked around the mall, my objective was to find some clothes for the kiddos for Easter, and I did. I found a really neat store called
Crazy 8
, and I loved the colors and the prices. I did not, however, find anything for baby girl. I'm not sure why!
2.
This is very random - thus, fits in Misc. Monday - but I've just been thinking how much I wish Sarah was more cuddly. My boys have always been this way, always cuddle with me. I wonder if this is a girl thing, a birth order thing, or just a personality thing? She gives me hugs and kisses, tells me she loves me, don't get me wrong. But when it comes to climbing up on my lap and just staying for a while, it's not really her thing. Have you noticed this difference among children? Is it a boy/girl difference?
3.
Speaking of girls, my friend
Ashley
just had her baby boy, and she wrote a post about feeling great and happy and everything is just perfect. I wonder if this is also boy/girl related! :) When I had my boys, I remember feeling that way! When I had Sarah, I struggled A LOT, even to the point that I'd say I had postpartum depression for about six months. Again, I'm not sure if this is order of children or if the hormones are different after having different sexes? I do think about it since I'm having a girl this time, and maybe since I'm more aware of it I can handle it better?
4.
Rush Limbaugh doesn't offend me when he calls a woman a slut. Bill
Maher
doesn't offend me when he calls a woman a...well...Google what he called Sarah
Palin
. Should I feel offended? I don't know, I just figure anyone can spout off crummy things, unless it's my best friend or husband or mom, I'm not going to let it get to me. But you know who offends me? Pat Robertson. I guess when a person is in the spotlight as a Christian, I feel that they represent all of us. And when they say something hateful or not in line with scripture, it makes the rest of us look hateful as well. So when he said (referring to the Broncos and Peyton Manning), "If that injury comes back, Denver will find itself without a quarterback. And in my opinion, it would serve them right."
Serve them right?
UGH! Why would he say that? He doesn't even talk about pro sports normally, does the really think God is upset with the Broncos for getting rid of Tim
Tebow
? Maybe Tim
Tebow
isn't supposed to be there anymore! Remember
Isaiah 55:8
, Pat.
Not to mention when he said Haiti deserved what it got because it had a pact with the devil.
5.
I hate ants. They are back in my kitchen like they are every spring. No matter how much I clean or bleach or find products that are recommended to me from a store, nothing works. Looks like we'll be spraying again soon. Super.
6.
My doc is on vacation Wednesday, Thursday, Friday....just when I'll be 37 weeks/full term (on Thursday). So even though I really want to have her early, I really want my doc around! So I guess I'll wait another week...you know...if baby girl is agreeable!