There are a few blog posts floating around in my head, but I don't know if I have an entire post in me for each one, so I think I'll write a few lines about each thought instead...and link up for Miscellany Monday.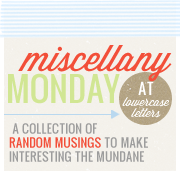 1. So last week was Valentines Day, and I have to confess, it always annoys me when people say they don't like Valentines Day because they don't need one day out of the year to show someone they care or boast about how perfect their husband is because he gives them cards, flowers, candy, or whatever all year long. Well, I'm very happy for you, but for some men, they would be lost without birthdays, anniversaries, and Valentines Day (that is, if they remember these).
And I would also say, I feel the same way about Christmas. Do I really need to put any emphasis on ONE DAY when God calls me to serve Him and honor Him all year long? Nope. I don't. So I'll get out my Vince Gill Christmas CD (starting in October of course) and be pretty secular about Christmas. Because it's not about one day.
2. I read an article the other day titled "
The Seven Worst Things You Can Say to Your Husband
". First of all, I really thought I must have missed my calling when I read it, because I'm quite sure I could have written a better article. But anyway, I found myself feeling pretty defensive while I read it, so I'm not sure what that says about me. For one thing, I can think of FAR WORSE things to say, even though I know deep down each of them would be best kept unsaid. But each one probably comes out of my mouth at some point, and I thought it was funny when I read a comment that said, "Why are we defending men? They deserve these comments sometimes!" Well, maybe they do, maybe they don't.
The other thing that got me was when a woman posted a comment and said she had been married for 3 years and determined that most people who commented needed therapy. Boy, you should have seen people rip her apart, and part of me agreed. I remember when I had been married for 3 years. Shoot, what can go wrong after 3 years? Come tell me what it means to be married after 10 or 15 years, after a few kids, a few jobs, a few moves. Then you can tell me I need therapy. I ALREADY KNOW I NEED IT! :)
3. Some people take facebook WAY too seriously. And some people don't. I prefer the second kind. If I unfriended you and you see me in real life and decide to not make eye contact and not speak with me, I think I'm probably not the one who has issues.
4. Can you tell that pregnancy makes me an
ornery
person?
Hope you have a great week! I should have a new blog look soon!