This week's Five Question Friday is brought to you by the letters T, M, and R. (No good reason, those are just the letters we worked on this week!)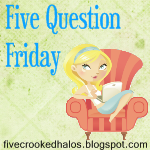 1. Do you have any nicknames and if so how did it come about?
(Have we answered this before?) I didn't go by Chrissy until my college days, so when I was younger and went by Christina, there was a neighborhood boy who called me Chris-scream-a. Thankfully, that didn't stick. I guess I screamed at him a lot? As for Chrissy, I just wanted to start over and be someone else I think. But my favorite nickname is
Eleven
.
2. What is your birth order amongst your siblings?
I am the oldest of two. Just me and
my sis
. I exhibit all of the classic, first-born traits.
3. In a movie of your life, who wo
uld p
lay your significant other?
I couldn't decide if this questions meant someone who looked like my significant other or someone who I just wanted to be my significant other in my dream world/movie world? So as I read other bloggers and their answers, I decided to go with my dream world/movie world answer...and since I've had a crush on him since I was a pre-teen...ahem...I would pick Mark Paul Gosselaar.
4. What is currently your favorite song?
Usually this would be hard to answer, but there is a song that is ALWAYS in my head these days, and it's
If We've Ever Needed You
by Casting Crowns
And after finding that video, I now realize how much I'd love to see them in concert.
5. Are you saving your money for anything right now? Big or small purchase?
Josh and I had to utilize our emergency fund for some unexpected work on both of our vehicles in the last month. We will be putting any extra money we have back into that fund until it's where it's supposed to be! After that's completed, I would like to start saving for a 10-year anniversary trip next summer. Somewhere nice. Maybe a cruise? We'll see!