Why is it that I never have anything to say on Friday and keep coming back to the 5
QF
? Oh, well. Everyone else is doing it, might as well join in, huh?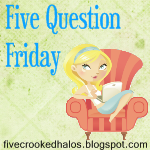 1. How many pets do you have?
We have one sweet
doggie
. Her name is Abby, and she is a black mutt - part lab and part beagle. We rescued her from the Springfield (MO) Humane Society in January of 2003. At the time we were renting a duplex in Bolivar, and we weren't supposed to have pets - that's the rebel in me...ha!
2. If you could switch places with anyone in the world for one day, who would it be?
I'm not sure why, but the first person that popped into my mind was
my sister
. I would switch with her as long as I could magically have all of her skills in color guard/winter guard along with the capacity to teach it...
I'd need to know all of her lesson plans for the business classes she teaches, too. I have a degree in business, and towards the end of my college days, I almost switched to business education. I'd love to teach her classes, especially in her school district.
I'm not sure if I could walk in all of her stilettos, though.
3. What is your favorite money saving tip?
Don't spend money you don't have. Sound simple enough? It's certainly not the American way. That includes cutting up credit cards and not borrowing money for things like cars, furniture, appliances, electronics, etc. I also know that we do better when we use an envelope system - cash only for everything. It's a different feeling when you put cash down to pay for something as apposed to swiping a debit card. I know that when I see how much money is left for the month - in cash form - the visual is more concrete when it's in 10's and 20's!
4. What do you want your kids to be when they grow up?
Josh and I joke that Caleb will be a politician when he grows up. He is so outgoing and says hi to EVERYONE he sees. It doesn't matter who is it or what their age is, he is always saying hello. Sarah has a very sweet and independent personality, and I can see her being the type that doesn't want to rely on anyone else to get a job done, she will do it herself! I also pray, though, that if she wants to stay home and raise a family that she will be encouraged by her husband to do so and be surrounded by friends who do the same. Gabriel is still too small to really tell any distinct personality traits, but since he is third born, I bet he'll be tough! He has beautiful, dark features (dark hair, dark eyes, dark
completion
), so if he's tall, dark, and handsome, maybe he'll do some modeling? ;o)
Ultimately, though, I pray that they will always seek God's will in their lives and become strong in His word. Nothing else really matters when it comes to eternity!
I also want them to be content. I hope I am teaching that to them.
5. What is your favorite quote?
Each season of my life seems to bring about a new favorite quote. Recently I read this one, and it was perfect for me.
"Educate a man and you educate an individual; educate a woman and you educate a family."
--A.
Cripps